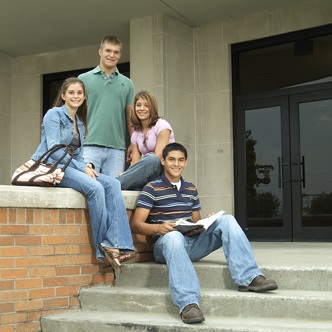 JCIDC Today's manufacturing careers demand innovation, creativity and the ability to handle complex challenges.
Partnering with educational institutions and organizations at the local, regional, and state level, the Workforce Partnership has been able to generate awareness and establish programs and educational opportunities for students as well as adults paving the way for a skilled and ready workforce for employers in Jackson County.
Organizations and programs the Partnership is involved with are identified below:
Project Lead The Way (PLTW)


Project Lead The Way is all about teaching and learning. The hands-on, project and problem-based PLTW approach adds rigor to traditional technical programs and relevance to traditional academics. Seymour High School currently has a 4-year program and other Jackson County middle and high schools have plans to implement PLTW. Learn more about Project Lead the Way at www.pltw.org.

Manufacturing Skill Standards Council (MSSC)
Modern manufacturing requires 21st century skills. The MSSC's vision is to equip America's workforce with the high-performance knowledge and skills necessary to boost the productivity, innovation, and competitiveness of U.S. manufacturers. MSSC classes are being offered in Jackson County through Ivy Tech Community College and plans to implement curriculum in the high schools is underway. For more information about MSSC, visit www.msscusa.org.
Science, Technology, Engineering, Math (STEM)
Jackson County middle and high schools have courses centered around Science, Technology, Engineering,
and Math in curriculum and funding received through the EcO15 initiative will allow schools to expand course offerings in the near future. Click to download a Jackson County snapshot of current and projected classes offered in Jackson County schools in PDF format.

Dream It Do It (DIDI)
Dream !t. Do !t. is a nationwide effort to educate young people, parents, and educators about the outstanding opportunities available in manufacturing and help match people with careers they can be passionate about. Jackson County is an active player in the Southeast Indiana campaign with programs and activities in place. Learn more about the campaign in Southeast Indiana at www.dreamit-doit.com and click on Southeast Indiana.
Economic Opportunities through Education by 2015 (EcO15)
EcO15 is focusing on education and careers associated with Advanced Manufacturing, Healthcare, and Hospitality/Tourism for 10 counties in Southeastern Indiana. As a partner in this initiative, Jackson County has established a steering committee to identify and put in place curriculum that will enhance and expand existing curriculum as well as add additional opportunities for students. To learn more about EcO15, click on www.eco15.org.
There are also excellent statewide opportunities to enhance education and training.
Indiana WorkOne
WorkOne Southeast Indiana has a mission to help Hoosiers in Southeast Indiana find and grow in careers that are productive and fulfilling and assist employers in finding the qualified personnel they need to be successful. As part of this mission, Indiana Region 9 Workforce Board works in conjunction with WOrkOne and other private, state, and federal programs to create educational and technical skills training opportunities for residents in Southeast Indiana.
Indiana Department of Workforce Development
Indiana Department of Workforce Development (IDWD) manages and implements innovative employment programs for Hoosiers, unemployment insurance systems, and facilitates regional economic growth initiatives for Indiana.