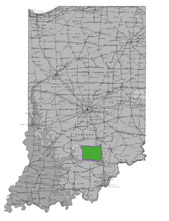 Indiana is the ideal place to grow your business. Indiana offers a low-cost, pro-business environment and a highly skilled, educated and capable workforce. The state's business tax structure is one of the most competitive in the nation, and we are constantly working to improve the competitiveness of our business and tax climate.
Companies are finding Indiana to be a great place to invest, with support from the state, business partners and community leaders. It's no accident that so many domestic and international companies are located here. They've discovered that Indiana's central location, business-friendly and low-cost environment, skilled and reliable workforce, and vibrant cultural environment add up to success for a wide range of business endeavors. Indiana gives your company the competitive advantage to grow faster and to prosper in today's global marketplace.
Indiana is a state that works for building a strong economy, a balanced budget and the regulatory freedom to bring innovation to the global marketplace. Click here for information on "A State That Works"
Indiana covers 36,420 square miles, making it the 38th largest of the 50 states.
Indiana is bordered by Lake Michigan and Michigan in the north and by Kentucky in the south. On the east is Ohio and on the west is Illinois.
Longitude: 86° 16.0′W
Latitude: 39° 53.7′N