Critical in the success of all businesses is our area workforce.
Jackson County's goal is to increase the skills of an already productive workforce. The workforce supporting our employers is young, educated, and highly mobile — and they stand ready, willing and able to help you succeed.  Jackson County Industrial Development Corporation (JCIDC), already the leader among local economic development organizations in Indiana, continues to increase its efforts in helping employers find qualified workers.
In 1998, Jackson County Industrial Development Corporation (JCIDC) created the Jackson County Workforce Partnership, a program to bring industry, schools, local elected officials and economic development leaders together to make the county's employers more competitive. The Workforce Partnership program has become the model on which other area programs are being built, and new programs are being developed to increase worker skills and training for Jackson County area employers.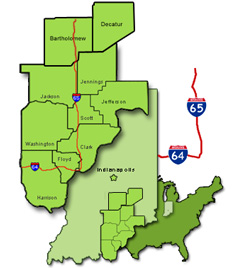 Jackson County is also a member of the South Central Indiana Economic Development group – a 10-county regional partnership dedicated to the growth and prosperity of South Central Indiana.
South Central Indiana's young, active, educated workforce is among the nation's healthiest — in both mind and body, which makes it a great place to turbocharge your business.