Healthcare in Jackson County, Indiana
Schneck Medical Center, Seymour, Indiana
In constant pursuit of ways to provide excellent care, Schneck Medical Center in Seymour, Jackson County, Indiana, is recognized as one of the most respected health institutions in the nation.  With a reputation for leading-edge medical research and support services, as well as excellent health care services, Schneck draws businesses, researchers, teachers, physicians and patients from throughout the region and the nation.
93 private-patient suites
Nearly 300 physicians
Over 1,000 associates
84,000 square foot outpatient center
Click here for a profile of Schneck Medical Center and all of its services.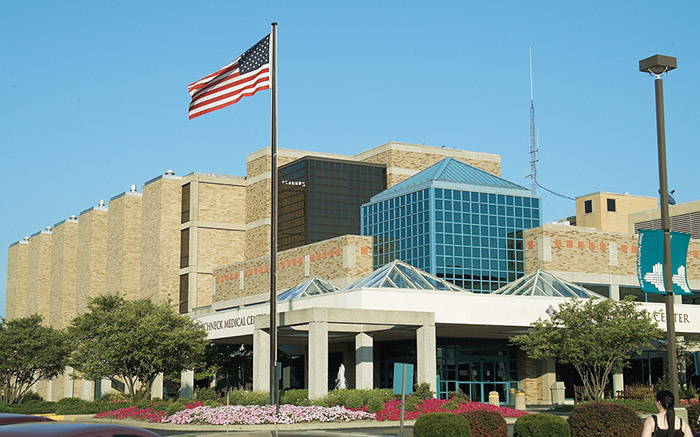 In addition to general and wellness services, Schneck also provides comprehensive Women's Services including a Family Life Center, Surgical Services including weight loss, Bone & Joint Center, Outpatient Services, Cardiac Care Unit, Trauma Center, Pain, Rehab, Respiratory, OBGYN and Ortho, and Cancer Center, and more.
Accolades:
Malcolm Baldrige National Quality Award—National Institute of Standards and Technology, United States Department of commerce, 2011
Rural Hospital CEOs to Know – Warren Forgey, President/CEO – Becker's Hospital Review, 2016, 2017
Workplace of the Year – The Advisory Board Company, 2016, 2017
Grassroots Champion Award –  Warren Forgey, President/CEO – American Hospital Association, 2015
Magnet® Recognition for Nursing Excellence—American Nurses Credentialing Center, 2006-2016
#1 Most Nurse-Friendly Hospital—TopRNtoBSN, 2014, 2015, 2016
101 CMOs to Know—Dr. Douglas A. Towriss—Becker's Hospital Review, 2014, 2017
Guardian of Excellence Award for Patient Satisfaction—Press Ganey, 2013
Excellence in Employee Engagement Award—The Advisory Board Company, 2013
Top 100 Great Hospitals—Becker's Hospital Review, 2012, 2013
Top 100 Leaders of Great Hospitals—Becker's Hospital Review, 2012, 2013
Top 25 Hospitals to Work For—HealthExecNews, 2012
Top 100 Great Places to Work in Healthcare—Becker's Hospital Review, 2013, 2015
Top 100 Great Community Hospital—Becker's Hospital Review, 2013, 2017
Indiana University Community Civic Engagement Award—Indiana University, 2013
Top Hospitalist–Dr. Douglas A. Towriss—American College of Physicians, 2012
Peak Award for Patient Experience—VHA, 2010, 2012
Partner for Change Award (2012, 2013, 2014) and Partner Recognition Award (2011) for environmental excellence—Practice Greenhealth
Indiana's Best Places to Work—Indiana Chamber of Commerce, 2009, 2010
Best Places to Work in Healthcare—Modern Healthcare magazine, 2009