JCIDC Executive Director Jim Plump visited with Aisin officials in Detroit at the North American International Auto Show (NAIAS) in Detroit on January 12th to hear Aisin Group President Yasumori Ihara discuss the company's products and technologies that they are pursuing in its R&D efforts, on the themes of "Environment and Fuel Efficiency," "Security and Safety," and "Comfort and Convenience". On display were a number of Aisin transmissions (some produced at ADI in Crothersville), plus the company showed video clips of a demonstration vehicle equipped with the group's automatic driving and parking technology that links the intelligent parking assist system for rear parking and parallel parking, the driver monitor system, and the car navigation system.
"The Aisin Group has grown into a comprehensive auto parts manufacturer with many specialized companies under a management philosophy of autonomy and independence that
allows each company to manage business in its field of expertise on its own," said Ihara during a press conference at the COBO Center. "Aisin Group designs, develops and produces one of the broadest product lineups in the industry, and is fortunate to count many global auto manufacturers among its customer base, including most of the OEMs you see here at the Detroit motor show. In 2012, Aisin AW developed the world's first Front Wheel Drive 8-speed automatic transmission. Today, Aisin Group has grown into the world's largest automatic transmission manufacturer. And, we are proud to exhibit our drivetrain products for the first time here at NAIAS."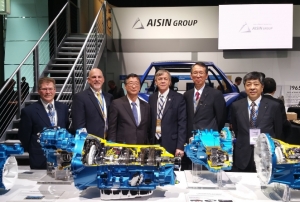 Posing with a number of Aisin transmissions on display at NAIAS in Detroit are, from left, Shawn Deppen, Vice President-Production for AWA; ADI President Scott Turpin; Aisin Group President Yasumori Ihara; Jim Plump, executive director of JCIDC; AWA President and CEO Masayasu (Mike) Saito; and Toshio (Tony) Tanaka, President of Aisin Mexicana.